McClintock Supports The American Health Care Act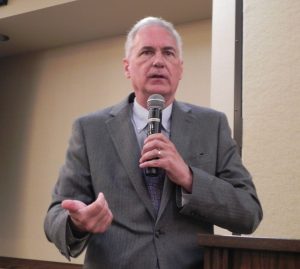 Congressman Tom McClintock

View Photos
Washington D.C. — Local Congressman Tom McClintock spoke in favor of the recently passed American Health Care Act, HR 1628 (AHCA). The bill goes to the Senate passed after passing the House with a 217-213 vote.
Congressman McClintock shares why he supports the bill in his newest blog. He notes his disappointment that the AHCA does not restore the freedom of consumers to shop across state lines but states, "follow-up legislation will assure that Californians can access reformed markets in all fifty states." A provision in the AHCA addresses states' flexibility to pick and choose which rules to live by, allowing them to impose annual and lifetime coverage limits, which are prohibited under Obamacare, and get rid of certain annual out-of-pocket spending caps.
According to the Associated Press the AHCA will eliminate the fines ObamaCare imposed on people who don't buy coverage, and erase tax increases in the Affordable Care Act on higher-earning people and the health industry. The bill redefines who is low-income, limiting and letting states impose work requirements on Medicaid recipients. Unlike Obamacare subsidies, subsidies may be tied to consumers' ages and states could get federal waivers allowing insurers to charge older people and those with pre-existing illnesses higher rates than healthy customers. The AHCA eliminates the mandate that states cover specified services like pregnancy care and blocks federal payments to Planned Parenthood for a year.
The Congressional Budget Office estimated in March that the AHCA would end coverage for 24 million people over a decade, but the House voted without an estimate for the latest version of their bill.
Read McClintock's full statements in his blog here.