Round Two For A Measure To Fund Fire Services In Calaveras County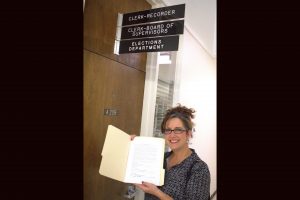 One of the five proponents Shannon Sharp makes the NOI filing

View Photo
San Andreas, CA – It may not be the traditional way to celebrate Valentine's Day, but five proponents in Calaveras County loved filing notice that they intend to circulate a ballot initiative petition to fund local fire agencies.
In the November midterm elections, Measure A received 10,261 yes votes but still lost by 266 votes, as reported here. Like that initiative, this new one seeks voter approval for a one percent sales tax to fund the county's ten local fire agencies. To get on the March 2024 primary election ballot, the group will need to collect the required 2,124 valid signatures.
"We love Calaveras County, and we want our county to have adequate fire protection," said proponent Dana Nichols, chairman of the Calaveras Local Fire Protection Committee and president of the San Andreas Fire Protection District Board of Directors.
Another one of the five initiative proponents, Calaveras County Chamber of Commerce president Sherri Reusche, also a business owner and board member for Calaveras Unified School District, wants local fire agencies to be able to hire permanent staff to keep stations open 24 hours a day.
"We want our firefighters, first of all, to stay in our county," she said. "I don't think people have any idea how many services they provide for our community."
This time around the group says it has expanded its membership and plans to run a "stronger campaign" to better educate voters and counter misinformation, according to Nichols, who added, "We learned that many voted against it because they either believed it was a property tax, or even that they don't need local fire protection because we have Cal Fire."
Nichols provided this list of other initiative proponents:
John Hesketh of West Point is a business owner and member of the West Point Fire Protection District board.
Bertha Underhill of Arnold, a community volunteer, and member of the Calaveras County Water District board
Shannon Sharp of Mountain Ranch, an educator and community volunteer, helped to file today's initiative paperwork