High Speed Rail Accountability Bill Fails In Committee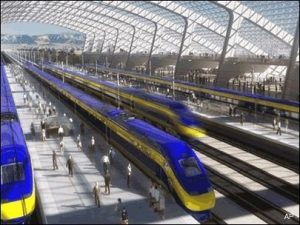 HSR

View Photos
Sacramento, CA — A bill that would have implemented recommendations of the non-partisan Legislative Analyst's Office failed to gain enough support in the Assembly Transportation Committee.
AB 66, proposed by Republican Jim Patterson, would have required the Rail Authority to provide more detailed information about the cost, scope and schedule of each project segment.  It would have also mandated that business plans include financing costs associated with the planned system and construction of the various segments.
Patterson says, "This vote is a slap in the face to Californians who are demanding answers about a project that is clearly in free-fall. They are over budget, behind schedule and are shedding project managers left and right."
The bill was killed with a 7-4 vote.
Also this week, a Superior Court Judge ruled that the project can proceed while a lawsuit is being reviewed regarding whether the state is keeping its promises to voters about the project. The initial bonds for the $64-billion project were approved by voters in 2008. Construction is starting in the Central Valley but it is eventually expected to connect Los Angeles with San Francisco.