IRS Answers Whether CA Middle Class Tax Refunds Are Taxable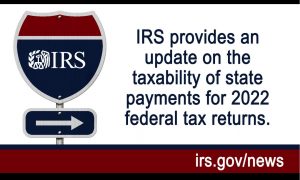 IRS Announcement

View Photo
Sacramento, CA — Californians will not have to report the state's Middle-Class Tax Refund as income.
We reported earlier that the IRS had briefly advised Californians to refrain from filing federal returns until further clarification was released. The IRS has now put out guidance noting that the special payments from states are tax-exempt. Noting, "The IRS has determined that in the interest of sound tax administration and other factors, taxpayers in many states will not need to report these payments on their 2022 tax returns."
Around 18 million Californians received a Middle-Class Tax Refund, designed to offset the impacts of high gas prices and inflation.
A coalition of GOP lawmakers sent a letter to President Biden last week requesting that the payments be tax-exempt.
The one-time allocations ranged from $200-$1,050.