Newsom Calls For New Restrictions On Concealed Guns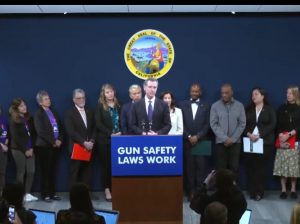 Gavin Newsom Speaks About Concealed Guns

View Photo
Sacramento, CA — Governor Gavin Newsom, and Attorney General Rob Bonta, are backing legislation under review in the state legislature related to expanding restrictions on concealed guns.
Referencing recent mass shootings in Half Moon Bay and Monterey Park at a morning press conference, Newsom said, "It has only furthered my resolve to continue California's rightful position as a leader in the gun safety movement."
The legislation would ban anyone from carrying concealed guns into any privately owned business, or space, that is open to the public. It also impacts places like churches, zoos, libraries and amusement parks.
In addition, it prohibits anyone under 21 from receiving a concealed-carry permit, and requires more training to receive a permit.