CA Democrats Propose Series Of New Climate Bills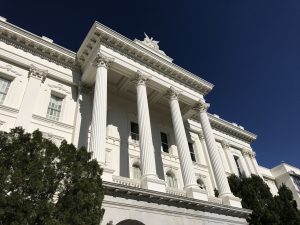 California State Capitol Building

View Photo
Sacramento, CA — Democrats at the state capitol introduced a package of bills that would demand more transparency and regulations related to climate matters.
They are supported by the California Environmental Voters coalition, but raising concerns from business groups, like the California Chamber of Commerce, who warn that it could increase the cost of doing business in the state.
One of the most high-profile initiatives is introduced by Democratic Senator Scott Wiener, and would require large corporations to report its amount of greenhouse gas emissions to the public. It would impact companies that do business in California and bring in over $1-billion in revenue. A similar measure failed last session, but Wiener says a larger coalition has been built this time around in favor. Proponents argue that the public could use the information when determining which climate-friendly businesses they want to support.
A bill by Democratic Senator Lena Gonzalez would ban the California Public Employees Retirement System and the California State Teachers Retirement System from investing in large fossil fuel companies. A similar bill failed to receive an Assembly hearing last session, but Gonzalez also says there is more support this time around.
Another bill would create a committee to analyze climate-caused financial risks for corporations.
Democratic proponents argue the bills would put pressure on companies to help California reach long-range climate goals.