Alligator Seized From Jamestown Man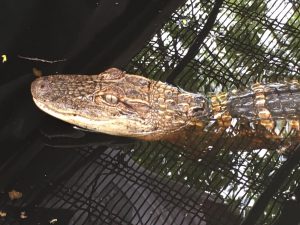 Alligator Located In Jamestown

View Photos
Jamestown, CA — The Tuolumne County Sheriff's Office received a tip about a Jamestown man who was in possession of an alligator, which is a restricted species.
The Fish and Wildlife Warden was contacted and accompanied the sheriff's office to an unidentified location in Jamestown. They located a 3 ½ ft. alligator in a heated, rubber lined, tank. The alligator was confiscated and transported to a permitted facility for housing.
The Sheriff's Office urges anyone who is thinking about acquiring a restricted species to first contact Fish and Wildlife as a permit must be granted and there are requirements and procedures for caging and housing restricted species.
Sheriff's Office spokesperson Sgt. Andrea Benson says the man reportedly purchased the alligator in the Central Valley after seeing an advertisement on the website Craigslist.
Because the incident is still under investigation, the Sheriff's Office is not releasing the exact location of where the alligator was found in Jamestown, or any additional information, at this time. Charges could potentially be pending.