Date Changed For Calaveras Meetings To Gather Feedback On Evacuation Plan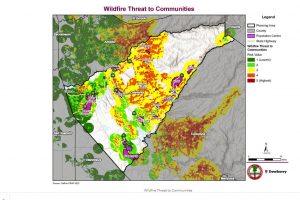 Wildfire Threat to Communities map

View Photo
San Andreas, CA – Those wanting to give in-person feedback on the Calaveras County Evacuation Needs Assessment and Preparedness Plan will have two chances next month.
City of Angels Camp officials noted, "In the midst of a local and state-declared emergency, it is a perfect time to remember that we need to plan for evacuations. With our heritage roads (barely single lane) and steep grades, we need to identify a plan for our community safety."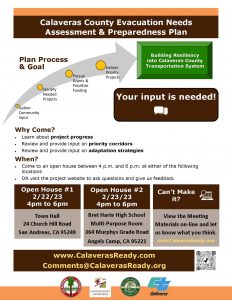 Two meetings that were to be held last week were postponed due to the recent stormy weather. The new meetings will be held next month, with the date, times and locations listed on this flyer.
The plan's objectives are to build resiliency into the county's transportation system from the impacts of catastrophic events and facilitate adequate and sustained access to and from high-risk communities during and after events, as earlier reported here.
For further details on the plan, click here.