Man Attacks Woman With Pipe Outside Sonora Business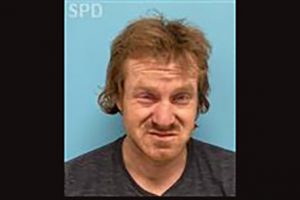 Timothy Barlass

View Photo
Sonora, CA – An altercation outside of a Sonora store resulted in the arrest of a man for attacking a woman with a pipe.
Sonora Police report that officers responded recently to the Crossroads Shopping Center on Sanguinetti Road after being alerted to an altercation between a male and female in front of the Walmart store. When officers arrived on the scene, they contacted the involved individuals. They determined that 29-year-old Timothy Michael Barlass, a Sonora transient, had physically assaulted the female with a PVC pipe, according to police spokesperson Cpl. Thomas Brickley. He noted that the female victim had visible signs of injuries. Brickley also detailed that this was not a random attack because the two are known to be in a relationship.
Barlass was arrested for assault with a deadly weapon other than a firearm and an earlier drug warrant. He was placed on $40,000 bail.
Of note, in November last year, Barlass was arrested for using a crowbar to assault a man near a downtown Sonora fast-food restaurant, as reported here.