Horsetail Fall Reservations Available Effective Today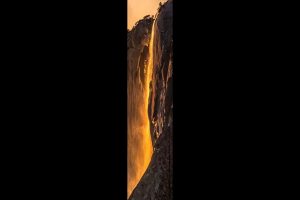 Yosemite National Park Horsetail Falls

View Photo
Yosemite, CA — While reservations will not be required to enter Yosemite this coming summer, they are needed on weekends when the popular Horsetail Fall attraction is likely to be visible.
The fall often looks like it is on fire during a few weeks out of the year when it is backlit by sunset. There is no guarantee you will see it. It only occurs on evenings with a clear sky, when the waterfall is flowing, and the sun is at the right angle (in mid to late February).
The event attracts many visitors to a small space of the park, sometimes causing traffic congestion and safety concerns, spurring the need for reservations for anyone entering the park during those busy weekends. The cost is $35 per car.
They will be available beginning at 8am today on Recreation.gov.
The dates requiring reservations are February 10,11,12,17,18,19,24,25 and 26. 50% of the reservations will be available today, and the remaining 50% will be made available at 8am two days prior to the actual date.