TUD Board To Seek New Member After Murphy's Resignation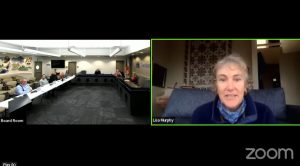 Lisa Murphy Announces TUD Board Resignation

View Photo
Sonora, CA — Lisa Murphy, who has served two years on the Tuolumne Utilities District Board of Directors, submitted her resignation during this week's board meeting.
Murphy appeared via Zoom and stated to both the board and community, "Thank you for the honor of having me on the Tuolumne Utilities District Board of Directors. It has been a pleasure to serve you all."
She then continued, "My wife accepted a job with Cuesta College in the San Luis Obispo area, and we are moving our primary residence to San Luis Obispo. We'll still have a foot in the community in Sonora, but it appears most appropriate to allow space for a new board member who is fully living and engaged in the community."
After the announcement, Murphy was thanked for her two years of service on the board.
As a point of legal clarification, Board President Jeff Kerns then asked if she was resigning effective immediately, or at the end of the meeting. Murphy replied that the new home they are renting out of the county had a mudslide the night prior, and they were in the process of "moving mud," so she preferred that it be immediate. The board then did a farewell and she dropped off the Zoom call.
Murphy joined the TUD board two years ago with a background in natural resources as a former Park Ranger in Yosemite and an adjunct professor in Forestry and Natural Resources at Columbia College.
The board will now begin the process of finding her replacement, and it will be further discussed at an upcoming meeting. The board could choose to either request applications (and then pick someone at a future meeting) or decide to call for a special election.