Tofanelli Picked To Lead Calaveras Supervisors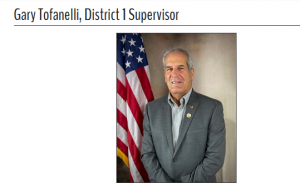 Gary Tofanelli

View Photo
San Andreas, CA — During the first regular meeting of 2023, the Calaveras County Board of Supervisors picked a new chair and vice chair.
District Four Supervisor Amanda Folendorf served as Board Chair throughout 2022, and using a rotating system, District One Supervisor Gary Tofanelli was nominated by District Two Supervisor Jack Garamendi to be the chair for 2023. It was seconded by District Five Supervisor Benjamin Stopper, and Tofanelli was then approved with a 5-0 vote.
Supervisor Jack Garamendi was then nominated to serve as vice chair, and it was also approved 5-0.
The selections were both quick and uncontentious. Supervisor Tofanelli thanked outgoing chair Folendorf for the "great year she put in."
Tofanelli's District One includes parts of San Andreas, Valley Springs, Circle XX, Campo Seco, La Contenta, Camanche, Burson and Wallace.