Emergency Declaration And TCSO Pay Raises Approved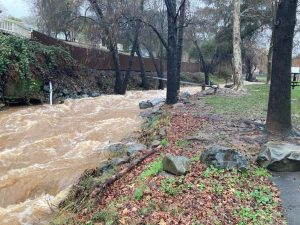 Water along Woods Creek In Sonora (1/9/23 at 11:30am)

View Photo
Sonora, CA — The Tuolumne County Board of Supervisors met in a special session today to vote on a pair of items.
One is the ratification of an emergency declaration related to the recent heavy rainfall, and what is still in the forecast this week.
It allows Tuolumne County to seek state and federal assistance, and possible reimbursement, for any storm damages. Governor Gavin Newsom has declared a statewide emergency, and President Joe Biden today signed a federal proclamation. The impacts of the storm will not be fully known until all of the atmospheric river systems pass through. To this point, Tuolumne County has not been as impacted by flooding as neighboring counties like Calaveras and Mariposa.
In addition, the supervisors voted to approve a new contract with the Deputy Sheriff's Association which will increase pay for law enforcement officials. The increases will range from 5-15%.
You can read the full agenda report, with the approved contract agreement, by clicking here.
Both votes were 5-0.
Today and tomorrow, the supervisors are also conducting their yearly workshop and goal developing sessions. The two-day, open-to-the-public, meeting, is taking place at the new Tuolumne Resilience Center.