Update: Shelter In Place Order For Parts Of Mariposa County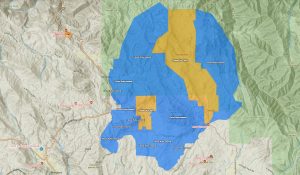 1/9/23 Mariposa Shelter in Place Areas

View Photo
Update: The Shelter in Place order referenced below has now been lifted.
Mariposa, CA — Concerning flood waters and debris have prompted a "Shelter In Place Order" for portions of Mariposa County.
The sheriff's office reports that the order impacts anyone on Carter Road, Jerseydale Road (from Wild Dove Road to Hites Cove Road), and Anton Road.
The sheriff's office reports, "Please stay indoors and do not attempt to cross any standing or moving water."
Anyone stranded in Mariposa County due to flooding should call 911. The Search and Rescue Team is standing by.