Update: Man From Twain Harte Shooting Incident Charged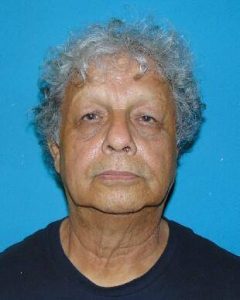 Mark Leyva, TCSO Booking Photo

View Photos
Update at 1:59 p.m.: Sheriff's officials have released more details from the shooting in Twain Harte that occurred Sunday afternoon.
Tuolumne County Sheriff's spokesperson Sgt. Andrea Benson now states that the call to her office came in just after 9:30 a.m. after which deputies responded to the 19000 block of Wanita Way.
The caller reported to deputies that he was a roommate but was had been outside of the residence when he heard two gunshots go off following a disturbance between two other roommates: Mark Leyva, 68, who was later arrested in the incident, and John Hodgins, 70.
Leyva came out of the home as deputies arrived, according to Sgt Benson. He told deputies that Hodgins and Hodgins girlfriend, Jeanne Guthmiller, 67, were still inside and that she had a gunshot wound to her leg. At that time, it was not clear that Leyva was the shooter.
Sheriff's dispatchers attempted to call the home while deputies set a perimeter and notified surrounding neighbors as the SWAT team additionally responded to the scene. Although law enforcement called out to those still inside, it took an hour for Hodgins and Guthmiller to leave. According to Sgt. Benson they were afraid; having been told by Leyva to lock themselves into a bathroom and not come out under any circumstances.
SWAT members subsequently searched the home to ensure it was safe. The two victims were also examined, which revealed that Hodgins had sustained a non-life threatening gunshot wound to his upper arm as well as several lacerations on his body. Guthmiller suffered a blunt force trauma injury to her leg. Both transported to the Sonora Regional Medical Center for treatment.
Leyva admitted to deputies he and Hodgins had recently been arguing over household issues, and as he had confronted Hodgins with his Berretta 9mm pistol, the two had gotten into a physical altercation during which he "pistol whipped" Hodgins. Sgt. Benson adds that, during the fight shots were fired that also hit Hodgins' iMac computer and television.
Original Post at 12:54 p.m.: Sonora,  CA — According to Sunday's custody report a Tuolumne County man faces three felony charges in conjunction with a shooting in Twain Harte.
As reported here, yesterday afternoon Tuolumne County sheriff's officials shared few details regarding a reported disturbance at a Twain Harte home located on Wanita Way that deputies responded to, other than a person there had been somehow injured from a gunshot and a suspect was taken into custody.
Sunday's custody log indicates that Mark William Leyva, 69, of Sonora was booked on three felony offenses shortly after 3 p.m. at the Tuolumne County Jail, following an arrest on Wanita Way.
These charges are assault with a firearm on a person; discharging a firearm in a grossly negligent fashion; also false imprisonment with violence. Under the first of the three Leyva's bail was set at $50,000.
Sheriff's officials, still investigating the case, have not yet made any other details available.