Congressman McClintock Weighs In On Speaker Impasse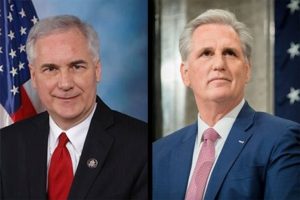 Tom McClintock and Kevin McCarthy

View Photo
Washington, DC — Mother Lode Republican Congressman Tom McClintock has authored a new myMotherLode.com blog focused on the challenge of electing a new House Speaker.
In the blog, he argues for Republicans to end infighting and fully rally behind Kevin McCarthy. He writes, "Is McCarthy conservative enough? A legislative leader is not a free agent. A legislative leader must represent the entire membership of their party. They can never be as conservative as conservatives would like or as liberal as liberals would like."
McClintock argues that McCarthy has traditionally been more conservative than other recent Republicans in the role, naming Paul Ryan and John Boehner.
He adds historical context throughout the blog, adding, "The fate of Rome warns that even the strongest civilizations cannot survive the debasement of their currency, the disintegration of their constitutional principles, and the collapse of their borders. Like it or not, despite our imperfections and peccadillos, the 222 House Republicans are all that stand between our country and such a fate."
You can read McClintock's entire blog by clicking here.