Calaveras Continues To Assess Flood Damage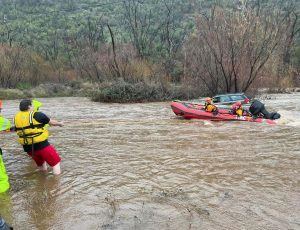 Rescuing flood victims in Calaveras County

View Photos
Valley Springs, CA — Officials in Calaveras County are tallying the damage resulting from Saturday's atmospheric river storm event.
The water started to recede in many areas when the sun came out Sunday, but cleanup continues.
The county, along with the City of Angels Camp, will remain in a heightened "Level 2" emergency response, with an ongoing Emergency Operations Center, out of concerns about additional flooding later this week.
Kathy Gallino, the Director of Economic and Community Development, is encouraging anyone with residential water damage from the recent storm to contact the Sheriff's Office's non-emergency line at 209-754-6500. Businesses that have suffered water damage should contact the Calaveras County Economic and Community Development Department at 209-754-6742.
Calaveras County will likely seek state and/or federal funding to assist with the cleanup.
Some of the hardest hit areas (where there remain some road closures and detours) are around Valley Springs, Burson, and Copperopolis. Some homes were evacuated on Saturday, including the entire Castle Rock Mobile Home Park. There were also cars trapped in the Valley Springs area, requiring emergency boat rescues.
In addition, there was a major culvert failure along Baldwin Court and White Lane, which will require extensive repairs by the Public Works Department.