Calaveras County Activates Emergency Flooding Operations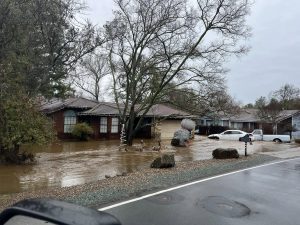 Flooding in Valley Springs in Calaveras County

View Photo
Calaveras County, CA – Calaveras County Office of Emergency Services and the City of Angels Camp have activated the Emergency Operations Center at Level 2 due to countywide flooding.
OES released this bulletin advising of hard road closures at:
HWY 4 @ Bonanza Mine in Murphys
Hogan Dam Rd. @ HWY 26
White Rd. @ HWY 26
Murphys Grade near La Honda in Murphys
Tanner St. @ HWY 4 in Murphys due to fallen log
Main St. south of Parrotts Ferry in Murphys
Coyote Creek in Vallecito
localized flooding in Burson
Valley Springs Trailer Park at 47 E. HWY 12
Chili Camp Rd. in Campo Seco
Reeds Turn Pike, Copperopolis
Salt Springs Rd. in Copperopolis
Murphys Park
Hawver and Jesus Maria Rds. Mountain Ranch
Birds Way & Finnegan Lane in Angels Camp
Candy Rock bridge in Avery has washed out
An emergency evacuation shelter is open at Mountain Oaks School at 150 Oak Street in San Andreas. (Take Highway 49 to Pool Station Rd. as lower Pool Station is flooded.) No pets will be accepted at the shelter.
OES officials noted that a limited amount of space is available for small animals (dogs and cats) at the San Andreas Animal Control Shelter located at 901 Jeff Tuttle Drive in San Andreas. Large animals can be taken to the Calaveras County Fairgrounds, off Highway 49 in Angels Camp. They added, "Travel via Frogtown Road in Angels Camp by entering through the top gate as there is flooding at the bottom gate. Pets will be accepted at the fairgrounds by going to the Floriculture Building, small animals can go to the Swine Barn, and horses can be taken to the beef wash racks area."
OES provided these sandbag locations: Please limit the number of sandbags to 10 per resident, and remember to bring your own shovel.
Arnold Maintenance Yard, 1119 Linebaugh Rd. (Closes at 3:30pm) 2. Glencoe Maintenance Yard, 16151 Hwy 26 (Closes at 3:30pm)
Jenny Lind Yard, 11558 Milton Rd. (Closes at 3:30pm)
San Andreas Rd Yard, 891 Mt Ranch Rd. (Closes at 3:30pm)
Mountain Ranch Community Center Parking lot next to the Public Safety Substation, 7869 Whiskey Slide Rd.
Murphys Fire Station, 37 Jones St.
Vista Del Lago Cul-De-Sac near Valley Springs Dental, 313 Vista Del Lago
Mangili Rd. Cul-De-Sac at Valley Springs Sports and Fitness, 145 Mangili Rd.
Copperopolis Fire Department, 370 Main St.
West Point Volunteer Fire Department, 195 Spink Rd.
Angels Camp, sand and sandbags are available at 200 Monte Verda (behind the Police Department)
Calaveras Connect buses are continuing to run and residents can call Dial-a-Ride at 209-754-6500. For more flooding questions or information, contact Kathy Gallino at 209-754-6742 or by email at Kgallino@co.calaveras.ca.us