Trapped Dog Rescued In Columbia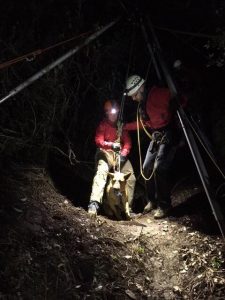 Rescuing Jack The Dog In Columbia

View Photos
Columbia, CA — A hiker along a trail at Columbia College last night discovered that a dog had become trapped approximately 40 ft. down an old vertical mining shaft.
The hiker could see the dog trapped at the bottom, and notified officials at the Columbia College Fire Department. The Tuolumne County Sheriff's Office's Search and Rescue Team was called out to evaluate the shaft for a potential rescue. Animal Control also responded to the scene and positively identified the dog as "Jack," who was reported missing by his family earlier in the day. The dog's family had been looking for him in the Columbia area since mid-morning and had posted flyers around the campus.
The Sheriff's Department reports the Search and Rescue Team, with the help of the Columbia College Fire Department, set up a high angle rope rescue system and lowered one of the team members into the shaft. Jack was placed in a dog rescue harness and was pulled out of the shaft with his rescuer. The dog was uninjured and was reunited with his family.