More Than Cannabis On Calaveras Special Election Ballot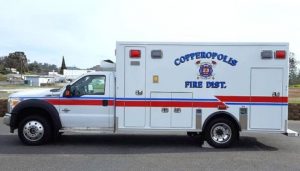 Copperopolis Fire Protection District's New Ambulance. Feb., 2017

View Photos
San Andreas, CA — While most are well aware of the countywide commercial cannabis Measure B ban initiative, certain Calaveras voters will see other district-focused measures on their May 2 special by mail ballot.
For example, those living in the Copperopolis Fire Protection District will be voting on Measure C. Joel Schwartz, the district's administration officer, says that with ballots hitting the mail in early April the district is putting out a factsheet looking at the pros and cons. He emphasizes it is not a new tax.
"Measure C is authorization to allow your Copperopolis Fire Protection District to spend the revenues from taxes that were already approved and paid by the voters for paramedic services and firefighters," Schwartz stresses. "Measure C is tax money that was already approved in 1997 and again in 2003 to maintain the level of fire protection and paramedic services that the district provides to the community."
Consequences Of Not Voting On Or Naying Measure C
As under state law, every four years voters must approve the spending of the revenues collected from such taxes, their decision will become effective until 2021. Providing district voters with a heads up, he shares that if Measure C does not pass, the Copperopolis Fire Protection District will be unable to spend approximately $500,000 per year in tax revenue already collected for the purpose, which might consequentially result in as much as a 50 percent cut in paramedic and firefighter services.
District call volume, he says, for the first two months of 2017 as compared to the last four years, rose 20 percent from this time last year, and 75 percent as compared to four years ago. Schwartz estimates that more than three-quarters of this year's calls to date are for EMS/medical reasons, partially due to the fact that the local population is an aging one.
"Our average response time is now nine minutes or less but if we have to cut staff and mothball resources due to a lack of funding, our response times could increase by as much as 30 minutes," he maintains. Ambulances and medics are now staffed 24/7 at two Copperopolis locations; the main facility at 370 Main Street; also at Station 2, located at 1927 Quiver Street near the geographic population center.
Breaking down the special tax that district homeowners pay annually, which he says has not changed in 20 years, Schwartz explains that it includes $75 to cover paramedic and $75 for firefighter services 24/7. Based on the current Copperopolis population of 3,671 people, the cost for this coverage is less than 20 cents a day.
For Saddle Creek, Copper Cove/Rocky Road Residents 
The ballot's other two initiatives, Measures A and D, are specific to two residential community service districts (CSDs) and both relate to proposed tax increases to cover increasing maintenance costs.
Measure A pertains to Saddle Creek Community Services District, which seeks to increase the district's special tax by $53/month ($640/year) and additionally assign it to the Saddle Creek Resort golf course, fitness center and large, undeveloped lots owned by developer Castle & Cooke, who do not currently pay the existing tax for CSD services, maintenance or improvements. Arguments in favor of Measure A state that due to just over 50 percent of the lots created — and paying the original tax that was approved in 2000 — the CSD remains $600,000 short of being able to fund road maintenance, landscape improvements and reserve funding.
Measure D, geared for Copper Cove Rocky Road Community Service District, would increase its existing special tax by $100/year to $450 per lot, specifically to maintain the current level of road maintenance within the district. It would be the first increase since the district's formation in 1984.
For more details pertaining to the four measures on Calaveras County's May 2 special by mail ballot, click here.