Deadline Looms For State Parks Plate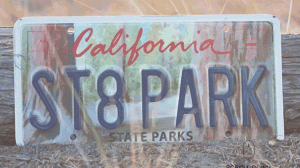 California Parks License Plate

View Photos
In order for California to move forward with a new license plate to benefit state parks, an additional 6,000 preorders must be placed by May 18.
The state needs to receive 7,500 preorders by the deadline, and as of this morning, only 1,233 have signed up for the plate. The cost is $50 for the first issue and $40 each year after. A portion of the proceeds would be allocated to help California's state park system, which is struggling to keep up with infrastructure demands. The design of the specialized plate features giant sequoias.
California has around 280 state parks, including Railtown 1897, Columbia State Historic Park and Calaveras Big Trees State Park.
For more information about the new state license plate, click here.