Sex Offender Non-compliance Results In Arrest, Comments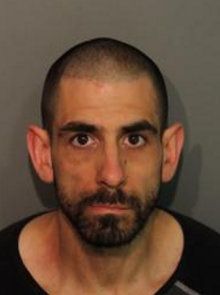 Christopher Brian Dodge, Angels Camp Police Photo

View Photos
Angels Camp, CA — An unaccounted for sex offender, now back on local law enforcement agencies' radar screens, gives a police chief cause to comment.
According to City of Angels Police Chief Todd Fordahl, 38-year-old Christopher Brian Dodge had been sought since Feb. 23, when it came to local authorities' attention that he had moved nearly a half a year ago from his Arnold residence on Fir Street without registering his new location, as required by law.
Angels Camp police were notified after a CHP officer recently spotted Dodge walking near Stanislaus Avenue and Oneida Street in back of Froggy's Carwash, where there is a footpath commonly used to access local shopping centers. According to the state's online Megan's List sex offender registry, Dodge was convicted in 2008 of attempted lewd or lascivious acts with a child under 14 years of age and classified by the state assessment tool as within the moderate to high risk range. He was subsequently charged with failing to register, a felony.
"Through his own admission, [Dodge] had been living in Angels Camp for about six months…he admitted his whereabouts [along the footpath] was not anywhere near his residence…my concern that he is walking in close proximity to Mark Twain Elementary School," Chief Fordahl states.
Non-compliance Elevates Concerns, Arrests
Emphasizing his worry, the chief continues, "It is just problematic for us that we do not have any way — other then being notified by DOJ [the Department of Justice], which does not happen very often in our case — because we do not have a big problem with people that fail to register. So we do not have any way of knowing where these people live, unless they fulfill their obligation and requirements that are put forward by state law."
Fortunately, Chief Fordahl calls Dodge's noncompliance and subsequent arrest a relatively rare occurrence, as locally those who must register are mostly diligent in order to avoid such brushes with the law. Too, as the chief points out, anyone with access to the internet can do a search of sexual offenders who live in the area, complete with photos, using the online registry.
"[Sex offenders] are much better off, based on the requirements of the law and the fact that the public has access to their information — whether they like it or not…to just register," Fordahl maintains. Pointing out that the process is not complicated or lengthy, he adds, "As long as they are in compliance and doing what they are supposed to be doing…they are not going to be contacted by law enforcement unless there is some other reason for it."