Water Releases Expected To Start Again At Oroville Dam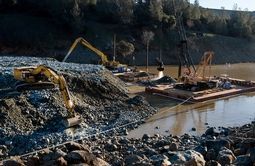 Oroville Dam spillway clean up

View Photos
Oroville Lake, CA — Oroville Dam's heavily damaged main spillway is projected to resume releasing water next week as levels continue to rise in the reservoir.
The state Department of Water Resources (DWR) indicates that the water releases are likely to begin March 17 when the lake level is expected to have risen to 865 feet. DWR officials indicate that is well below the point at which water would flow over the emergency spillway. The recent cool, dry weather has allowed the emergency response team to make tremendous progress clearing the sediment and debris below the spillway with about 715,000 cubic yards removed to date, according to DWR officials. The cleanup operation is scheduled to continue round the clock.
Nearly 200,000 people were evacuated from three counties last month when experts discovered severe erosion and a massive crater in the main concrete spillway used to release water during the winter.