Butte Fire Burnt Tree Removal Getting Boost From Mother Nature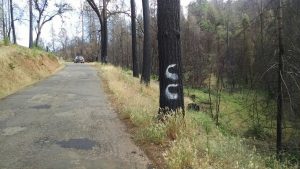 Calaveras County trees marked for removal

View Photos
Mountain Ranch, CA — The stormy weather had slowed work on tree removal in the Butte Fire footprint to a crawl but the recent sunny skies are helping to put the project back on track, according to Calaveras County officials.
As reported here, last month's heavy rains allowed for less than two weeks of cutting down dead trees since work began on January 30th along Mountain Ranch and Railroad Flat roads. As of Thursday there have been only 11 available work days with nearly 1030 hazard trees brought down.  County spokesperson Sharon Torrence indicates, "They [hired tree removal company] have been ramping up putting on more crews. For the short period of time that crews have been able to get work they've averaged around a hundred and some trees a day. The hauling crews have started with just a couple of trial runs.  I think they're going to be right back on schedule."
Currently, the two Tri-County area tree firms, which include Amador, Calaveras and Tuolumne counties, have nine cutting crews and two hauling crews on site. Weather permitting, Torrence reports work is expected to be completed on Mountain Ranch Road within two weeks.
Click here for the schedule of where crews will be working through March.