Rain Slows Butte Fire Tree Removal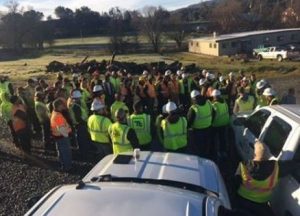 Butte Fire Tree Removal

View Photos
Calaveras County, CA — While tree removal within the Butte Fire Burn area started on January 30, Calaveras County officials report that only seven of the last 30 days have been rain free.
The weather has slowed tree removal efforts, according to county spokesperson Sharon Torrence. 743 of the estimated 8,400 trees have been removed to this point. Of note, six loads of logs and slash were taken to the Wallace transfer site to be chipped and then transported to a co-generation plant in Tuolumne County.
Work is underway on Mountain Ranch Road, South Railroad Flat Road and Jesus Maria Road. Those traveling on Mountain Ranch Road and Railroad Flat Road should expect around 15 minute traffic delays during the daylight hours.
The Butte Fire ignited in September of 2015 and burned 70,868 acres.