MTMC Grant Recipients To Focus On 'Healthy Seniors' Project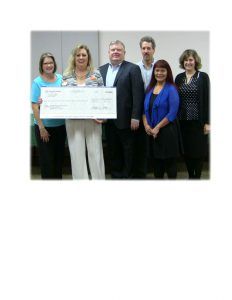 MTMC Awards, Feb. 2017: pictured, Susan Wenger, President, Murphys Senior Center Board; Nicki Stevens, MTMC; Steve Shetzline, Executive Director, Murphys Senior Center; David Sackman, Deputy Director, Calaveras Behavioral Health Services; Elizabeth Thompson, Executive Director, Common Ground Senior Services; Doreen Schmidt, Planner, Area 12 Agency on Aging.

View Photos
San Andreas, CA – Over $31,000 in community grants have been handed out by the Mark Twain Medical Center (MTMC), which recently announced the awards.
MTMC officials describe that this year's honorees, all 501 (c) 3 organizations, will be collaborating together on a project called "Healthy Seniors Now."
Partnering agencies are the Murphys and Calaveras County senior centers, which provide free programs and activities; Common Ground Senior Services, an advocacy resource center supporting the independence of individuals with disabilities; also the multi-resource offering Calaveras County Behavioral Health and Area 12 On Aging. The grant recipients formally received their awards at a luncheon last Wednesday.
To date, MTMC reports that more than $380,000 has been awarded to various nonprofit community organizations. Criteria includes that applicants for the grants must relate and respond to health priorities identified in the local Dignity Health hospital's community health assessment or benefit plan and be collaborative with at least two other groups.
MTMC CEO Bob Diehl states that the new project will help hone in on disproportionate unmet health-related needs in the community with an emphasis on the senior population.
Diehl emphasizes, "The focus for this program will be on primary prevention and addressing underlying causes of health problems. Historically, we have seen the positive outcomes from our community partners who are the direct beneficiaries of our grants, and continue to believe that this effort will result in building community capacity by demonstrating collaboration."
The Healthy Seniors Now endeavor aims to help keep the aging community mentally, physically and socially active by addressing community exercise and health needs through classes and workshops, including those that address health problems, such as adult diabetes and high blood pressure. It also plans to augment the county's limited mental health resources for seniors.