K9 Assisted Traffic Stop Sniffs Out More Trouble For Pair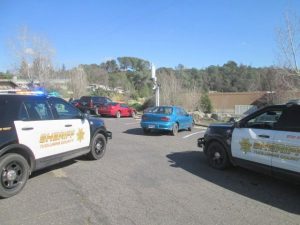 TCSO Mendenhall-Bradley Traffic Stop, Feb. 26, 2017.

View Photos
Sonora, CA – An expired registration sticker triggered a traffic stop over the weekend that netted two locals wanted on multiple warrants, even before K9 Hans sniffed out more charges to add.
According to Tuolumne County Sheriff's spokesperson Sgt. Andrea Benson, it was about 1:30 on Sunday afternoon when her office initiated the stop on a green 1999 Chevrolet Cobalt. A records check revealed the driver, 30-year-old Justin Mendenhall of Soulsbyville, and his passenger, 24-year-old Sierra Bradley of Sonora, had racked up several failures to appear and that Mendenhall remains on searchable probation.
When deputies searched Mendenhall they found a glass methamphetamine pipe in his pants pocket, after which K9 Hans was dispatched to do a sniff of the vehicle, and subsequently alerted to something inside. Deputies located on the driver's side floorboard a small rubber container with meth inside. Both Mendenhall and Bradley were arrested and booked into the Tuolumne County Jail.
As Mendenhall admitted to owning the methamphetamine, he was charged with possession of a controlled substance and possession of drug paraphernalia as well as on three warrants for failing to appear in charges relating to theft, resisting arrest and violation of probation. She was booked on two outstanding warrants, pertaining to driving on a suspended license; no proof of insurance; forgery and ID theft.