Calaveras Marijuana 'Underground Or Above Board And Regulated'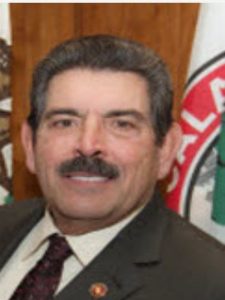 Michael Oliveira

View Photos
San Andreas, CA — A collective sigh came this week from supporters and many opponents of Calaveras marijuana.
This is because at Tuesday's meeting the county supervisors eked out a passing four-fifths majority vote to extend the jurisdiction's urgency ordinance that would have otherwise expired on Valentine's Day.
The 4-1 passing allows local regulations and enforcement efforts — largely funded through growers' application funds — to continue for up to a year. The sole dissenting vote came from District 5 Supervisor Clyde Clapp, whose strong anti-marijuana stance helped him lead a recall and win the seat of his predecessor Steve Kearny last fall.
Insurance Against Complete Confusion
In an interview with Clarke Broadcasting, District 3 Supervisor and Board Chair Michael Oliveira was thankful that a majority of the board renewed what he describes as an insurance policy against whatever chaos might have otherwise ensued without being able to maintain some sort of enforcement rules and essential funding through the spring special election.
May 2 is the scheduled date for when voter-residents will consider whether or not to support the citizens' ban initiative that made it to the by-mail ballot. Sheriff Rick DiBasilio, among other enforcement officials known to be non-fans of commercial grows, was among those who favored the supervisors' move to extend the ordinance.
"Should [residents] vote to uphold the ballot initiative, which bans marijuana nearly totally, as it is written, it also removes the urgency ordinance funding," Oliveira further emphasizes. These are the monies, for the express use of administering to and enforcing medical marijuana grows, that generate from registrants' application fees.
Permanent Plans On Front Burner
In addition to this week's decision to extend the ordinance, District 1 Supervisor Gary Tofanelli and District 3 Supervisor Jack Garamendi advocated for the board to direct staff towards preparing a draft permanent ordinance so it would be ready in the wings, pending the ballot outcome.
"Tofanelli and Garamendi said we can design a permanent ordinance and make it more restrictive [than the urgency regulations]…learning from [its] mistakes," Oliveira recounts in a hopeful tone. "If we can get those [fixes] to overlap and get at least get a good workable draft done before the May 2 vote. Then, we would have something to fall back on should the [ban] initiative fail…something workable that can continue on without leaving all our defenses down."
Although personally not a cheerleader for Calaveras cannabis, Oliveira maintains he is trying to keep a big picture view of the situation that leads with making the best decisions to maintain and preserve public safety.
Enforcement Issues Here To Stay
He confides, "It is very convoluted because a lot of people are viewing this through narrow tunnel vision — and some do it very emotionally — but we have to get down to the realization that we are not going to eliminate this problem from our county. It is going to be here…either underground or above board and regulated." With the spectrum of opinions being taken into consideration Oliveira admits uncertainty about which way ultimate solutions will sway.
Pointing out that the county is still processing 400 commercial medical marijuana growers' applications, Oliveira states outright, "That grow season is going to happen because there is no way we can stop it now, even with a total ban." The also illuminates that, with the passage of Prop 64, the criminality of some growing activities has been removed and anyone 21 and over is now legally able to propagate up to six plants on a parcel for personal recreational use. Infractions carry only civil fines. Criminal offenses that remain on the state's books mostly deal with high capacity growing, certain manufacturing, and other related activities.
Further complicating how ban-favoring voters should cast their ballots is that the initiative is considered by many county officials to be defectively written. "It is in conflict with state law and attacks the operations of the county's [three] existing collectives," Oliveira states. However the bottom line, he says, "It is a voter initiative….I have to listen to them and be responsible to the rest of the county."