Update: SRMC's Phone System Now Fully Operational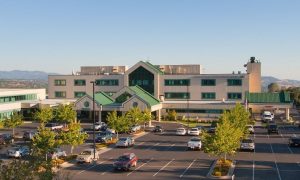 Adventist Health Sonora

View Photos
Update Saturday at 9pm: SRMC reports that needed repairs have been made following Thursday's electrical storm and all phone lines are now fully operational.
Original story posted Friday at 12:30pm: Sonora, CA — Sonora Regional Medical Center's phone service was disrupted during yesterday's electrical storm.
SRMC Spokesperson Lindsay Brewer says repairs to the system have been ongoing since late yesterday. Until the repairs are complete, the phone system can handle only a small volume of calls. The public is requested to limit calls to the hospital for critical or emergency calls only. Calls to schedule or reschedule appointments should be postponed until the phone system is back to 100-percent capacity. The full restoration could come as early as this afternoon, or it may extend into the weekend, as significant damage to the system was incurred due to the lightning strikes.
In addition, Sonora Oxygen and Medical Supplies main phone number is not working. You should call 533-7945 and Mother Lode Answering Service will route the call.
According to Brewer, no other systems incurred damage at the Medical Center in yesterday's storm. All other systems are functioning properly and patient care is not affected.