Lt. Ferreira To Lead Sonora Area CHP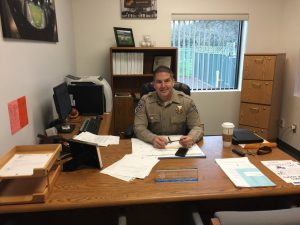 Lt. Commander Shane Ferreira

View Photos
Sonora, CA — A new Lt. Commander has stepped in to lead the Sonora Area Office of the California Highway Patrol.
Lt. Shane Ferreira is a native of Merced and has spent 20 years with the CHP. Before arriving in the Mother Lode, he worked in Ventura County, Merced County and Madera County. Lt. Ferreira replaces outgoing Lt. Commander Scott Clamp who retired in December.
On what attracted him to Tuolumne County, Lt. Ferreira says, "I think it is a very exciting opportunity. I knew the previous Commander, Lt. Clamp, for the past ten years. I know he very much enjoyed working up here. I can tell you that the Sonora Area Office, and the people that work here, are ingrained in the community, and have a great reputation across our division with the highway patrol."
Asked about his goal moving forward, he says, "For me personally, it is to get out into the community, to go to events, and to support the community members that we serve. I just want to make myself available to the citizens and make sure that we are providing the community support necessary to make sure that we are doing the job and providing the service to everyone here in Tuolumne County."
Lt. Clamp served in the leadership role from March of 2012 to December of 2016. Prior to that, Lt. Sam Samra served from July of 2009 to December of 2012.