Sonora High Trustees To Consider Tough Cuts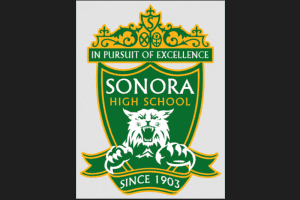 Sonora High School logo

View Photos
Sonora, CA – A troubled high school district's budget heads to the chopping block Thursday when trustees will consider several short and long-term actions involving deep cuts.
As Sonora Union High School District (SUHSD) Superintendent Pat Chabot describes the special session, "What I am bringing to the board…is precautionary layoff notices for some of our teachers and some of our employees."
Qualifying his projected cuts to programs and services, he adds, "Once the students start signing up for [next year's] classes, we will know which classes we can run. Right now, we are still trying to do the best that we can to save as much money as we possibly can everywhere — but still maintain all of the classes that we can."
As reported here, Tuolumne County Schools Superintendent Margie Bulkin last week made a strong case for the board to immediately address what she described to Clarke Broadcasting as a potential "perfect storm" budgetary disaster by not effectively addressing the district's continuing decline in enrollment without commensurate trims to staff.
Among actions under the trustees' consideration is to authorize a district plan for reducing contracted hours and/or days for classified employees for the remainder of this school year; also eliminating two classified positions (a senior office specialist-assistant principal and a high school campus supervisor) and some undisclosed classified management and confidential positions by March 31.
Another resolution proposes to reduce the school district's budget by $750,000 for the 2017-18 school year not only through service reductions and employee lay-offs, but by additionally reducing the work year for certified and classified managers and confidential employees over the next three years.
According to the meeting documents, the groups have already agreed to the move. The trimming begins at the top with a proposal to reduce Chabot's work year and corresponding compensation by five days this school year and by ten for each of the next two school years. For the others the reductions would be two days this school year and five days the following two.
Across the board reductions for the coming school year include eliminating the equivalent of nine full-time positions. These include an assistant principal, a counselor, and three full-time teachers (math, English and special ed) with the balance of part-time teaching hours coming from other general ed and elective subjects.
Noting the proposed cuts and nips to the district's payroll, Chabot acknowledges, "To get up to $700,000 a year that is quite a number of reductions."
Tomorrow's meeting begins at 6 p.m. in the school library (430 N. Washington St.).