Broken Headlight Nets Drug Bust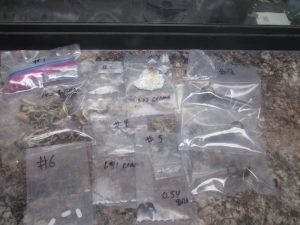 Drugs found

View Photos
Tuolumne, CA – A car with several malfunctioning lights resulted in the arrest of two men who are no strangers to law enforcement.
The stop took place just after 2 a.m. Friday. Tuolumne County Sheriff's officials report a deputy pulled over a 2001 Nissan Sentra at Zeni Lane in Tuolumne for a license plate light out, a malfunctioning headlight and an unreadable license plate. The deputy recognized the men inside, driver 35-year-old Joaquin Duarte of Ceres and passenger 37-year-old Gregory Meder of Sonora, from past arrests.
A search of the car netted methamphetamine, smoking pipes and hallucinogenic mushrooms After being taken into custody and while in the back of the patrol car, Meder tried to conceal two additional meth pipes and a baggie with heroin, according to sheriff's officials. Another search of the men in jail found Meder in possession of an additional bag containing more mushrooms and several hydrocodone pills.
Both were booked for several felony drug charges. Meder also faces charges of concealing evidence and bringing drugs into a jail.
Both men have been arrested by the sheriff's department in the past. Click here for past crimes committed by Meder and here for Duarte.