Update: Sierra Winter Storm, Mother Lode Flood Warnings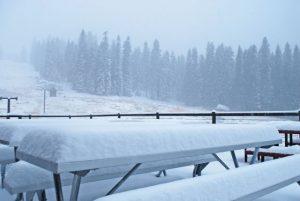 Snow At Dodge Ridge

View Photos
The National Weather Service has extended the Winter Storm Warning for the Sierra Nevada until 10 PM tonight.
Snow levels will continue to range from 4,000 to 5,000 feet.
An additional one to five inches snow accumulation is likely above 4,000 feet.
Gusty winds of five to fifteen mph will continue with gusts up to twenty-five mph.
The Flood Warning for southwestern Tuolumne and all of Calaveras County has been extended until 2:30 PM Friday afternoon.
Rivers and streams will remain elevated due to the recent, prolonged, heavy rainfall, but slowly recede Friday.
Turn around, don`t drown when encountering flooded roads. Most flood deaths occur in vehicles.
A Winter Storm Warning means severe winter weather conditions are expected or are occurring. Significant amounts of snow and strong winds are forecast that will make travel dangerous. Only travel in an emergency. If you must travel, keep an extra flashlight, food, and water in your vehicle in case of an emergency.
A Flood Warning means that flooding is imminent or is occurring. All interested parties should take necessary precautions immediately.