Wanted Twain Harte Woman Arrested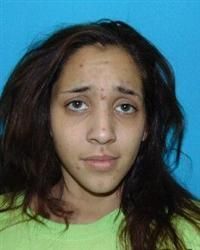 Kamelia Hutchinson

View Photos
Sonora, CA — A Tuolumne County woman with outstanding arrest warrants out of Tuolumne County, the city of Oakdale, and Stanislaus County was arrested Thursday in Sonora.
Deputies responded at 2:45pm to a report of a fight taking place at a home on Serrano Road. After knocking at the door several times, eventually a female opened the door and admitted that an altercation had taken place. The unidentified female stated that she was not injured, and she did not want to press charges against 21-year-old Kamelia Hutchinson, who she had been fighting with at the home.
Deputies were allowed inside the residence to search for Hutchinson because she had several outstanding arrest warrants. Hutchinson was located hiding in a crawl space between the garage and the back door of the house. She was in possession of 10 syringes, and one of which was loaded with heroin. She also possessed 0.19 grams of methamphetamine. She was booked into Tuolumne County Jail on several new charges. The outstanding arrest warrants, spanning the multiple jurisdictions, were related to drug offenses, theft, resisting arrest and providing false ID to a police officer.