A Jamestown Man Is Arrested For Attacking A Relative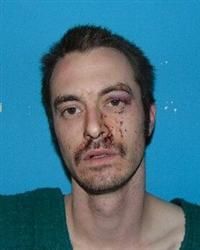 Dillon O'Shea

View Photos
Jamestown, CA – A fight with a family member led to felony battery charges for a Jamestown man.
The incident happened just after 10 p.m. Tuesday at the Woods Creek Mobile Home Park in Jamestown. A deputy responded to a call regarding an assault that had just taken place. Once on the scene, the 59-year-old female victim told the deputy her relative, 32-year-old Dillon O'Shea, had thrown her to the ground and then kicked and punched her several times in the face.  O'Shea also hit her with a stool and an end table, according to the women, while verbally threatening to kill her.
A deputy and Sonora Police Officer found O'Shea at a nearby relative's home where he was questioned about the fight. During his arrest he put up a brief struggle, according to sheriff's officials. He was taken to the Sonora Regional Medical Center for treatment where he became combative with the hospital staff. O'Shea refused medical attention. The woman also refused medical attention at the scene.
O'Shea was booked into the Tuolumne County Jail for felony battery and criminal threats of violence. His bail is set at $50,000.