K9 Sniffs Out Pipe But Drugs Found At Jail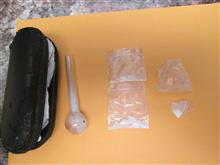 Drugs found

View Photos
Sonora, CA – A Modesto man is arrested after a traffic stop in Sonora, but his stash of meth was not discovered until he was searched at the Tuolumne County Jail.
The traffic stop happened just after midnight Wednesday, when a deputy noticed a green 1996 Chevrolet truck with a trailer hitch that blocked the license plate and pulled the pickup over. A records check of a passenger in the truck found 56 year old Rolando Manawatoa was wanted for a narcotics related warrant out of Placerville and a Tuolumne County warrant for traffic violations. K9 Hans was called to the scene and sniffed out a glass pipe in the pickup, which Manawatoa admitted was his.
Once at the Tuolumne County Jail, a deputy found three separate packages of methamphetamine totaling 1.5 grams hidden in Manawatoa's socks. He was booked into the jail on his outstanding warrants, the meth pipe and an additional felony charge for bringing drugs into the jail.