Arrest Following Scuffle With Sheriff's Deputies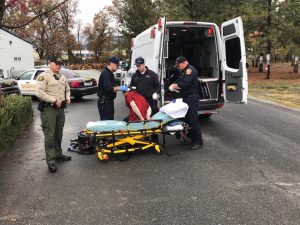 Arrest Following Incident In Sonora

View Photos
Sonora, CA — A man, believed to be under the influence of narcotics, was taken into custody with the assistance of a taser gun and a Tuolumne County Sheriff's Department K9.
Yesterday afternoon deputies responded to Interfaith Social Services on Striker Court in Sonora because a man was allegedly breaking into a vehicle in the parking lot.  The Sheriff's Office located 36-year-old Brandon King sitting in the described vehicle. The suspect refused verbal commands to exit the vehicle, despite making eye contact with the first arriving deputy. King refused to show his hands, and at one point reached  around to the bottom of the driver's seat. Concerned that King was reaching for a weapon, the deputy attempted to hold King at gunpoint until additional deputies could arrive on scene.
King then stepped out of the vehicle and started walking towards Interfaith, continuing to ignore the deputy's command to show his hands. A second deputy arrived, with a K9, so the dog was deployed to apprehend King. However, King tried to fight off the dog, so a deputy deployed a taser. It was ineffective, so a scuffle followed and the deputies physically worked to take King into custody. More deputies soon arrived to assist and King was placed into handcuffs.
The Sheriff's Office reports that a large knife was located on the ground near where the fight occurred. King declined receiving medical attention from an arriving ambulance and he was transported to county jail. One deputy reported receiving minor injuries as a result of the incident.