Cost Of A Thanksgiving Meal Is Down In 2016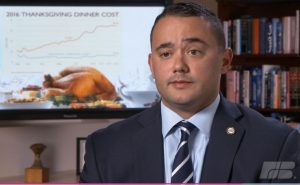 American Farm Bureau Federation

View Photos
In 2016 the American Farm Bureau Federation found the price of a Thanksgiving dinner for ten is down this year and back under $50. The informal cost survey determined an average Thanksgiving dinner for ten is $49.87, a 24-cent decrease from last year's average of $50.11.
Last year there was a 70-cent jump from 2014 prices which was up $1.07 from 2013. AFBF Director of Market Intelligence Dr. John Newton noted an important reason for the decline in overall price was a decline in turkey prices. Turkey production is up about 8 percent this year, rebounding from the 2015 Avian flu crisis in the Midwest.
Newton noted other factors as well stating; "Due to a significant expansion in global milk production, prices fell to the lowest levels since 2009, leading to lower retail milk and dairy product prices. Additionally, this year's pumpkin prices are slightly lower following the production decline and higher prices seen in 2015."
The AFBF survey shopping list includes turkey, bread stuffing, sweet potatoes, rolls with butter, peas, cranberries, a relish tray of carrots and celery, pumpkin pie with whipped cream, and beverages of coffee and milk, all in quantities sufficient to serve a family of 10 with plenty of leftovers. AFBF's 148 volunteer shoppers checked prices at grocery stores in 40 states looking for the best possible prices, without taking advantage of special promotional coupons or purchase deals.
"When you look at inflation, it (the cost of the meal) is actually cheaper today than it was when we first started doing this survey in 1986," Newton added.