Informal Social Media Poll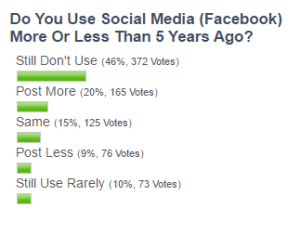 MyMotherLode Social Media Poll

View Photos
In an informal myMotherLode poll posted from Monday, November 14 through Friday, November 18, the question was "Do You Use Social Media (Facebook) More Or Less Than 5 Years Ago?" The response from 811 votes was 46 percent still don't use, 20 percent post more, 15 percent same, 9 percent post less and 10 percent still use it rarely.
The results seem to be at odds with the results of a Pew survey released last week on November 11. The Pew survey found 79 percent of American adults who use the internet are on Facebook, and 76 percent of them say they use it every day. The survey noted the next-largest social network is Facebook-owned Instagram, with 32 percent of online adults. "Some 62 percent of online adults ages 65 and older now use Facebook, a 14-point increase from the 48 percent who reported doing so in 2015," Pew's Shannon Greenwood, Andrew Perrin and Maeve Duggan wrote in a post about the survey. The survey reported 81 percent of both urban and rural online Americans reported they use Facebook, a full 27 percent more than our informal poll results.
The Pew survey was a national sample of 1,520 adults, 18 years of age or older, living in all 50 U.S. states and the District of Columbia. Nationally 14.5 percent of the total U.S. population is over 65 according to census estimates. The recent Tuolumne County Health Assessment, reported here, noted that Tuolumne has more older residents than California's younger-than-national-average population as a whole. A full 22 percent of Tuolumne County's population is over the age of 65 compared to 12 percent of California's population as a whole.
As to how many are online locally there is not a lot of data. As the area's most popular website our analytics point to an interest in local news and information that exceeds the populations of Tuolumne and Calaveras each month. In an average month 90 percent of our website traffic is attributed to a phone or computer in California with a majority routed from Sonora and the Northeastern Sacramento-Stockton-Modesto defined metro region. MyMotherLode's facebook page is approaching 9,000 likes, an increase of 64 percent this year and a number very close to the widely known and liked local destination, Pinecrest Lake and more than the page for Sonora (the location).
A formal survey supported by several Tuolumne County agencies, called the "Community Survey on Computer and Internet Use" was able to collect responses from 266 adults about internet use in Tuolumne county. As detailed in the news story here, the survey concluded September 2015. Youth, Literacy, & Outreach Librarian Lynn McCormick recently revisited the results of the community survey, concluding "the largest amount [reported in the survey] said they had smart phones, followed by those who said they have a tablet or iPad" laptops were reportedly more popular than the least popular category, desktop computers. Only 67 percent of respondents reported having internet at home, 19 percent reported it was too expensive, 6 percent had no service available and 4.8 percent, or 13 people, said they did not have a device to connect to the internet. Basic computer use classes were offered at the library, although McCormick said it seemed the majority of survey respondents felt their technology level was intermediate. She also said another survey would be helpful. It is unknown if funding will be available to assess the matter in the future.