Tuolumne County's Health Assessment Details Community Challenges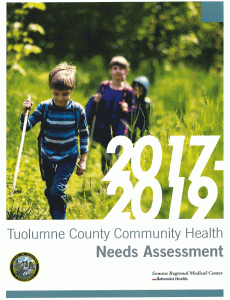 Tuolumne County's Health Assessment

View Photos
Sonora, CA — Health officials in Tuolumne County say a focus in local healthcare over the next three years needs to be on promoting healthy beginnings, reducing substance abuse and increasing access to care.
Those were the major findings of a 61-page report spearheaded by the Tuolumne County Public Health Department and Sonora Regional Medical Center. You can read it by clicking here.
The report was presented at today's Tuolumne County Board of Supervisors meeting. County Health Officer, Dr. Liza Ortiz, stated, "I say this all the time, but the biggest problem we have is chronic disease, and that includes tobacco use and substance use. It is overwhelming."
Citing the most recent statistics, 41% of Tuolumne County residents reported cardiovascular issues, compared to 28% in California, 24% experienced arthritis compared to 14% in California and 6% had cancer compared to 3% in California.
Tuolumne County ranks the 4th highest in the state in age adjusted cancer incidence rate, with 475 cases per 100,000 people, compared to a state average of 417 per 100,000.
On the issue of substance abuse, Julie Kline of SRMC noted that of the 500 newborns delivered so far this year, 33 were to addicted and impaired mothers that required the hospital to oversee a withdrawal process immediately after the delivery.  "This is totally unacceptable," said Kline. "This is a community problem that we need to address and we will be partnering with public health, and other entities, to try and do that."
The figures will be used as a reference when completing plans to address issues and could also be used when seeking grants. Dr. Ortiz and Kline both noted that health leaders will need to "think outside the box."
One of the positive findings was success related to the "Fit for the Future" campaign to fight obesity among school aged children. It was spearheaded by former Tuolumne County Superintendent of Schools Joe Silva, with the help of other partners like SRMC, and has helped encourage exercise and introduced students to new food choices. Kline stated, "I believe that the data shows there has been a tremendous response to this program."
On the issue of access to care, a big need is for additional primary physicians. It was noted at the Supervisors meeting that this is a national problem that has typically hit rural areas the hardest.
The report is packed with several other stats and figures about Tuolumne County. For example, the median household income in 2015 was $54,655 and the average household income was $70,833. The per capita income was $29,622.
Tuolumne County's population has declined by 2.8% over the past 15 years. Over the past five years alone, the county's population has dropped from 55,185 down to 53,709. 22% of Tuolumne County's population is over the age of 65 compared to 12% of California's population as a whole.
Again, you can click here to find the complete report.