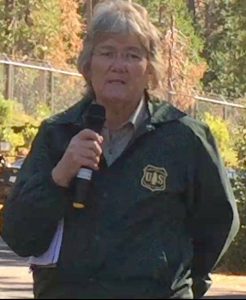 Stanislaus National Forest Supervisor Jeanne Higgins speaks at the tree mortality tour in 2016

View Photos
Sonora, CA — Stanislaus National Forest officials have made some staffing changes including the supervisor position but it is not permanent.
Some forest staff will be taking on new roles. Forest Supervisor Jeanne Higgins will move into the position of acting Associate Deputy Chief for the National Forest System. It is a temporary assignment that will take her to Washington D.C. through March 2017. Filling in for her will be Deputy Forest Supervisor Scott Tangenberg, who has held that post since 2013 and has 16 years of forest service.
Taking over Tangenberg's deputy slot is Tom Hall. He is currently the District Ranger on the South Fork Management Unit of the Shasta-Trinity National Forest and was the San Bernardino National Forest's environmental coordinator from 2008 to 2013. Hall's first day will be Monday, November 28 and the switch is slated to last for four months.