Tough Decisions Ahead For Sonora High School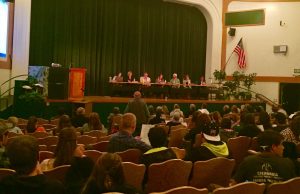 School Board meeting held at Sonora High School

View Photos
Sonora, CA — Around 300 people packed into the Sonora High School Auditorium to hear an update on what many feel has been a mismanagement of district finances.
We reported earlier that Tuolumne County Superintendent of Schools Margie Bulkin entered into a contract this past summer with a Fiscal Crisis Management Assistance team at the state level to review the financial health of the Sonora Union High School District. A representative gave a detailed presentation at tonight's board meeting which was held in the auditorium in order to accommodate the notable crowd of interested parents, students, staff and general community members.
Sonora High School has a structural deficit where it is spending more money than it has incoming revenues. For example, the report conducted indicates the Reserve Balance for fiscal year 2016-17 is starting at around $1-million, in fiscal year 2017-18 it is expected to drop to $291,000 and in fiscal year 2018-19 it is projected to be a deficit of $682,000.
The outside group described the reason for the structural deficit as being a "perfect storm." It notably points to current small class sizes being "unsustainable." It states that the average at Sonora High is 19 students for every teacher. With declining enrollment over recent years there has not been a correlating decline in staff. In addition, the amount of money used to fund ROP programs, which teach students trade and career skills, is 2-3 times more than state grant funding covers. There have also been unplanned expenses such as a new alarm system, cost overruns on facility projects and increasing facility maintenance costs.
On hand at tonight's meeting, Superintendent Margie Bulkin ordered the district to complete a thorough review and provide her a board approved fiscal recovery plan by December 15. In doing so, she recommended that the district form a fiscal review team comprised of board members, parents, district employees and the chief business officer. She said the group should have open communications with anyone wishing to offer solutions. She also recommended the district hire legal counsel to provide input on layoffs the district will need to do.
The School Board also later needs to approve a progress report, and return it to her office, by March 17.
Kathy Ankrom, Sonora High board president called the situation,"extremely difficult." She and the other trustees indicated they are committed to finding solutions and taking needed steps.
Around a dozen people then spoke in the public comment period and it included a mix of students, parents, staff and general community members. The overwhelming theme was concern about potential cuts to ROP programs. Many felt that programs such as agriculture and culinary arts give Sonora High a competitive advantage when attracting students, and cutting those programs would only further reduce attendance levels, resulting is less district money.
The crowd erupted in applause after each community member spoke, especially on a couple of occasions when the finger was pointed straight at District Superintendent Pat Chabot, and Board members, for not recognizing this problem earlier and being responsible for putting the district in a fiscal crisis.
It seemed obvious among the board and attendees that there are no easy and simple solutions. Difficult decisions will need to be made in the near future.
Board President Ankrom stressed that much information was provided this evening to digest and several more opportunities would available for public input and comment at meetings held over the weeks and months ahead.
Sonora High School has 145 employees and 939 students.