Tip Led To Drug Bust At Local Casino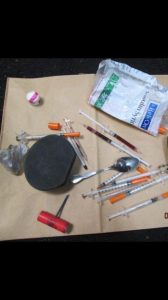 Drugs and needles found in SUV at casino

View Photos
Jamestown, CA — A couple was arrested after a deputy found not only blood on their hands but a bunch of needles in their SUV while parked at a local casino.
Tuolumne County Sheriff's Office recently got a call regarding a man and a woman doing drugs in a Ford Explorer parked at the Chicken Ranch Casino in Jamestown. A casino security guard led deputies to the SUV where they found a man behind the wheel with blood dripping from his hand and a hypodermic needle full of dark liquid.  Sheriff's officials say the driver tried to hide the needle while starting his vehicle attempting to flee but a deputy was able to open the driver's door and stop him.
In the back seat of the SUV deputies discovered a woman who also had blood on her hands. Arrested was Joseph Lewis, 26, and Cara Hallam, 25, both from Turlock. Lewis had a narcotics offense searchable probation from Stanislaus County that allowed for a search of the SUV. Deputies found ten used hypodermic needles, a package of unused hypodermic needles, a pink container with a small amount of a black tar substance wrapped in plastic that was determined to be heroin, a bent spoon with a cotton ball, and a red M-80 explosive device were found.
The pair was booked into the Tuolumne County Jail for possession of a destructive device, possession of a narcotic controlled substance, and possession of unlawful drug paraphernalia.