Sheriff Upset Over 'Yes On D' Campaign's "Misleading Quotes"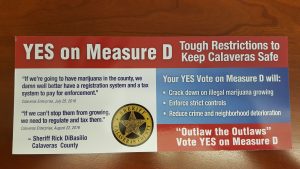 Erroneous Yes On Measure D flyer, mistakenly including opponent Sheriff Rick Dibasilio supportive quotes

View Photos
San Andreas, CA — As campaign flyers continue to hit mailboxes across the Mother Lode, Calaveras Sheriff Rick DiBasilio says one of them that states his support of Measure D is misleading the public because he actively opposes it.
Organizers of the citizen-proposed Measure D Cannabis Regulation on the Calaveras ballot are using the sheriff's star logo next to broad comments he made months ago regarding the general regulation of the medical marijuana industry. According to the sheriff, the quotes are used out of context.
The sheriff says he understands that public input will continue to be necessary as the county decides how to proceed with cannabis regulation. However, he emphasizes, "The way that Measure D is written is going to cause a lot more problems, not only for law enforcement but for the planning, the environmental health [departments]…so I have never been a proponent of Measure D."
As reported here, Measure D proponents include the burgeoning local marijuana industry and supportive members of the business community such as Barden Stevenot, the founder and former owner of Stevenot Winery, and restaurateur River Klass, whose holdings include Grounds and Firewood in Murphys. They say the measure was written to complement state laws now rolling out as well as to legitimize "good" growers who have been here for years while weeding out the "bad" actors.
DiBasilio adds that this Thursday at the Copperopolis Armory, he, District Attorney Barbera Yook and other county officials will be conducting another in a series of last-minute town hall presentation from 6 to 8 p.m. that illustrate their position and the differences between the urgency ordinance and Measure D, and that the public is invited to attend and ask questions.
Despite how residents vote on that measure, the sheriff reminds everyone that voting Yes on the Measure C Cannabis Tax will allow the county to tax the industry so it pays for the costs of enforcing cannabis regulation, if it continues in the county, regardless of under Measure D or the urgency ordinance.