Promoters, Opponents Duel Over Measure D Cannabis Regulation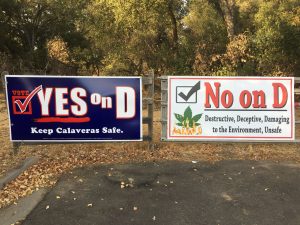 Yes On Measure D and No On Measure D signs hanging near Greenhorn Creek

View Photos
San Andreas, CA — As elections close in, outreach efforts are intensifying over the hotly contested Measure D cannabis cultivation proposal.
Measure D advocates are spreading the word through well-oiled social media and other channels, encouraging already energized supporters to show up and vote "Yes" on Nov. 8 Election Day. However, late-starting "No On Measure D" campaigners, now rushing against quickly trickling hourglass sands, are stepping up to host and support events. Tonight, another in a series of community forums against Measure D will be held at the West Point Town Hall from 6 to 8 p.m. The Citizens Against Cannabis Facebook page provides more details behind the rationale for the organizing group's position, which is to stop commercial marijuana expansion in the county.
'No On D' Gathers Some Steam
The number of public officials climbing aboard what has been a slowly chugging oppositional bandwagon is on the rise. Tonight's speakers include Sheriff Rick DiBasilio, District Attorney Barbara Yook, CAL Fire Chief Josh White, CCWD Director and Supervisor-elect Dennis Mills, Superintendent of Schools Kathy Northington and Director of Student Support Services Kathryn Eustis. Another town hall meeting at the Copperopolis Armory is in the works for next week, although the date still has to be confirmed.
Concerned about more marijuana in the county increasing students' access to it, county school superintendents at Calaveras and Bret Harte high schools recently held community outreach events where County Health Officer Dr. Dean Kelaita made presentations detailing the effects of marijuana on the adolescent brain. Measure D opponents, signs in hands, supported both events.
Vicki Reinke, who is helping spearhead the spirited, though meagerly funded grassroots "No On Measure D" signs and voter outreach, somewhat differentiates her group's focus from another one also in the field. Led by Bill McManus, it is busily collecting signatures through the end of the month to bring another commercial cannabis ban measure to a special election ballot next year. Both groups ultimately favor an overall ban because they believe that commercial cultivation will change the face of the county in too many negative ways, including by increasing the crime rate.
Nip Commercial Cannabis In The Bud?
Reinke maintains it is still possible for Calaveras to backtrack away from commercial cannabis. She says, "If we ban it we will eradicate it…it will probably take several years. I think now that it is out in the open, it is something we have to deal with."
Both ban groups prefer allowing the county's urgency ordinance on cannabis regulation to continue calling the shots, because they say it can be more easily amended than a ballot measure. Both also advocate that voters check Yes to Measure C, a cannabis cultivation tax that was crafted by county officials and placed on the ballot by the board of supervisors. In addition to providing more compliance and enforcement funds, monies raised through the tax will build a discretionary allowance that may be used for a wide range of county programs and projects.
Unsurprisingly, the well-fueled and organized Yes on Measure D effort and campaign enjoys financial support that runs into the six figures, due to contributions from the local cannabis industry and supportive business leaders.
'Yes On D': Powered Up, Pragmatic
Among the backers of the movement, which is called Calaveras for Cannabis Control, is retired Mother Lode businessman Barden Stevenot, the founder of Stevenot Winery and restaurateur River Klass, who owns Grounds and Firewood, both in Murphys. Stevenot and Klass are also listed as co-signers on the Measure D ballot argument. Klass argues that Measure D was patterned after recently enacted state laws that are still rolling out and puts the county in the driver's seat — ahead of the state — when it comes to setting and collecting fees and taxes.
Klass comments, "I've lived here for 30 years and pot has been grown here for way longer than that. Regulation allows the good, law-abiding people and farmers to grow, pay taxes and allows large groups of people to safely do their farming — and be able to support and bring in an enormous amount of money, so that enforcement can take care of the bad actors." Klass opines that a county ban — whether through a No on D vote or nonsupport of next year's new board of supervisors for the urgency ordinance — will only get the "good growers" to go away but will leave the county without means to fight the hardened criminal growers who will remain.
The YesOnD website has a Facebook interface and a signup setup that allows supporters private message access. The site's footnote states that it is sponsored by and received major funding by Calaveras Naturals, Inc., owned by Jeremy Carlson. Carlson, who helped push Measure D to the ballot, also operates Little Trees Wellness medical marijuana dispensary in Arnold.
Both Sides Agree On Measure C
Sheriff Rick DiBasilio reminds voters of the fact that, whether or not they vote Yes or No on Measure D, that the county is still regulating growers under the urgency ordinance. It is a costly undertaking that requires still more infrastructure and financial inflow. As he points out, "If somewhere down the road we end up with a ban, then Measure C just sits there idle and does not bother anybody. If the community as a whole decides they want to have marijuana in the county — we have to have that [Measure C cannabis growers'] tax — because if we don't, it is going to kill us."
–To access texts of the Calaveras County ballot measures, click here.
–For more local elections information, click here and remember to bookmark the page to refer to during our Nov. 8 Elections coverage!