Prescribed Fire Ignited In Mariposa Grove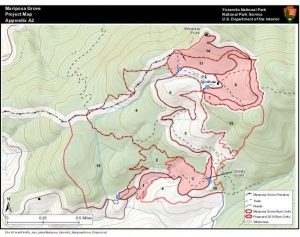 Mariposa Grove Prescribed Burn Map

View Photos
Yosemite, CA — A prescribed burn was ignited Sunday within the historic Mariposa Grove in Yosemite National Park, and smoke is expected to be visible over the next couple of weeks.
31 of the 148 acres scheduled to burn was ignited yesterday. It is expected to last up to 14 days. The Mariposa Grove is currently closed due to a major restoration project, so park officials feel this is an ideal time to conduct the prescribed burn. Historically, natural fire burned an average of 16,000 acres annually in Yosemite National Park, but the number has reduced over recent decades due to more active fire suppression. Applying fire under prescribed conditions mimics the frequent, low intensity, lightning caused fires. Residents nearby, who are sensitive to smoke, were advised to close windows and doors.
The National Park Service reports that fire produces the optimum conditions for Giant Sequoia reproduction and propagation. It removes the accumulated layers of dead woody debris, exposes nutrient rich mineral soil, and dries the cones allowing the seeds to shed.