Cone Zones To Greatly Slow Mother Lode Roads All Week, Beginning Sunday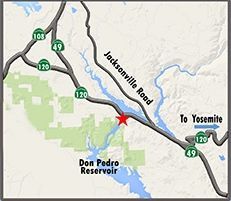 Roberts Bridge Project Route Map Detail

View Photos
Sonora, CA — Expect more major delays — and plan alternate routes — as work crews from Caltrans and other agencies tackle various multifaceted projects along Mother Lode roads.
Beginning Sunday, the Highway 120 James E. Roberts Memorial Bridge near Don Pedro will not be accessible for motorists in the evening and overnights until 7 a.m. from Sunday through Thursday nights. It will be important to remember that the bridge will close to traffic on these nights at 5 p.m. This work schedule is expected to continue through next February as Caltrans crews work to complete the second phase of renovations, which includes replacing the bridge deck. Jacksonville Road (see map in left image box) is likely to become much busier during these times as it is an obvious alternate route. During the times the bridge is open motorists should plan for ten-minute around-the-clock waits.
Traffic stack-ups of 15 minutes at a time return to Columbia every weekday as a Tuolumne Utilities District (TUD) contractor, Moyle Excavation, Inc., continues working on the Gold Springs Sewer Replacement Project. Crews will work from 7 a.m. until 4 p.m. daily. The district expects completion sometime this fall. It involves replacing over 5,500 linear feet of sewer force main and nearly 1,000 linear feet of sewer gravity main along the east side of Parrotts Ferry Road, from North Gold Street to Marble Quarry Road.
Patience-challenging Highway 4 Calaveras Cone Zones
Last week Caltrans signaled that paving operations along Highway 4 between the Stanislaus/Calaveras line and Highway 49 in Angels Camp might bring ten-minute delays. Motorists were reporting waits more like 20 to nearly 40 minutes at times. Since the work involves many trucks and lots of heavy, slow-moving machinery it is not hard to imagine. While Caltans maintains that this week the travel delays will only be ten minutes every weekday from 7 a.m. until 4 p.m., motorists are advised to consider other routes or bring a sandwich.
Other Highway 4 work zones that may create ten-minute traffic impacts include: pavement work every weekday between Dorrington Station and Cabbage Patch Log Road from 6 a.m. until 6 p.m.; daily tree work between Northwood Drive and Tipton House road from 6 a.m. until 4 p.m.; also drainage work Monday and Tuesday between the Vallecito Bypass and Parrotts Ferry roads from 8 a.m. until 3:30 p.m. Five-minute interruptions are possible every weekday while a utility crew continues to toil between Lakemont Drive and Henry/Lilac Street from 7 a.m. until 5 p.m.
More Overnight Project Travel Impacts
Overnight striping crews hit Highways 12 and 26 again all this week, beginning Sunday night at 9 p.m. and picking up at 6 a.m. Monday through Thursday nights they will start up at 7 p.m. The work zones run on Highway 12 between the San Joaquin/Calaveras County line and Highway 49 in San Andreas — and on Highway 26 between Shelton Road and Highway 49 in Mokelumne Hill. Expect ten-minute travel interruptions.
Expect similar overnight impacts beginning Sunday night at 9 until Monday morning at 6 a.m. along Highway 26 as a utility crew gets the jump on work scheduled between Vista Del Lago Road and St. Andrews Street. They will also be there every weekday from 8 a.m. until 4 p.m., likely creating ten-minute delays.
Highway 49 in Calaveras County will have its share of ten-minute travel hiccups. Anticipate them every weekday between Main Street in San Andreas and Pool Station Road when the northbound lane closes from 6 a.m. until 6 p.m. for utility work; also during drainage work from 8 a.m. until 3:30 p.m. that focuses Tuesday and Wednesday between Copello Drive and San Domingo Creek — and Thursday and Friday between San Domingo Creek and Demarest Mine/Fricot Road.
Ten-minute Tuolumne County Delays
More ten-minute stack ups are possible along Highway 120 as tree work continues Sunday and every weekday between Old Priest Grade and the Yosemite National Park west boundary entrance from 6 a.m. until 6 p.m.
On Highway 108, more tree work should generate ten-minute delays beginning Sunday and every weekday between Lyons Dam Road and Strawberry East from 6:30 a.m. until 6 p.m. Similar waits are likely weekdays during paving between Long Barn and Stoddard Springs Road from 6 a.m. until 7 p.m. There will also be daily drainage work to watch for between Crabtree Road and Pinecrest Lake from 8 a.m. until 3 p.m. and Friday paving operations between Stoddard Springs Road and the Donnell Rest Area from 6 a.m. until 3 p.m.
Along Highway 49 in Tuolumne County, travelers might encounter brief traffic stops from 8 a.m. until 3 p.m. as drainage work focuses in the following spots: Monday, between Parrotts Ferry and Shaws Flat roads; Tuesday, Dossi Way and Parrotts Ferry; Wednesday, OHara Drive and Dossi Way; also on Thursday between Rawhide Road and Tuttletown, as well as Tuttletown and Jackass Hill Road.
On a side note, Caltrans says that permits are available for chain installers interested in working locally along Highways 4 and 108. All new applicants must attend an orientation class and pass testing on Oct. 18 in Angels Camp. Permits may be purchased immediately afterwards. For more details call the Caltrans Maintenance Office at 209 736-0187.