Owners Count Blessings After Vehicle Hits Their Business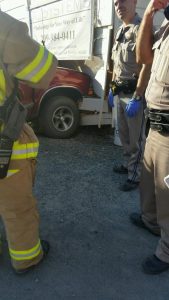 Damage from SUV collision with JC Systems, in Jamestown

View Photos
Jamestown, CA — A computer business owner says a drive-through cup of coffee stop across the street may have saved his family from a freak accident this morning.
As the CHP reports, late in the eight o'clock hour an SUV collided with a building in downtown Jamestown. Jacob Smith, who co-owns JC Systems with his wife Rebekah, recounts to Clarke Broadcasting that she was just about to enter their offices at 18364 Main Street when she heard something that sounded like an explosion.
"She did not know what it was initially…until somebody ran over and said that they had seen the vehicle hit the building," Smith states, his voice still a bit rushed, no doubt fueled by a bit of residual adrenaline. "So she went around back and realized that a vehicle had hit the the corner of our office…took out our sink area…and basically just plowed through the back wall."
CHP officials say the sole occupant of the SUV vehicle, an unidentified female driver, apparently lost consciousness due to some kind of medical issue. Although few details are available, she was apparently not injured in the crash. While the incident is still under investigation the CHP states that alcohol or drugs do not appear to be a factor.
A Cup Of Prevention?
Smith shares that his spouse's normal routine is to arrive at the office with their four-year-old son, perhaps use the bathroom, and then hang out in the building for about 20 minutes before she drops the little one off at nearby daycare center. It just so happened that Rebekah chose to go to Day-O drive-through coffee and smoothie kiosk across the road, which delayed their arrival by a few — what became crucial — minutes.
He wanly jokes, "We had discussed that it did seem like every day she was grabbing a coffee and I was saying how [the cost] kind of adds up…I think now that it is well worth it and I won't ever complain about her getting her coffee every morning again." Smith adds, "I feel…really blessed that she's all right, especially looking at [the pictures]. I can't imagine what could have happened if somebody was in that bathroom or kitchen area when the [vehicle] hit. At the very least, they would have been hurt. So I'm just thankful that my family is safe." (To view Smith's photos of the incident, click in the left image box.)
Smith remarks that the local insurance agents, who work nearby, were already onscene, indicating that he and his wife may have to temporarily relocate their business, depending on the severity of the damage to the building's structural foundation.
Cracking another joke, Smith recalls an eerily similar predicament that AV Computers owner Ralph Caspary had to endure, back in February, as reported here, when his location across from The Junction was damaged. With a shaky laugh he comments, "A car plowed into that building, too, so I guess the local computer companies here are kind of cursed when it comes to vehicles hitting them."