Missing Hikers Located Near Pinecrest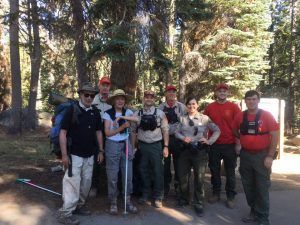 Lost Hikers Located by SAR

View Photos
Pinecrest, CA — There was a happy ending yesterday in a story about two missing hikers in Tuolumne County.
The Sheriff's Office reports that Dan Siegel and Anne Weills, both from Oakland, left for a hiking excursion on Friday and were set to return on Monday. When Siegel did not return to work yesterday, a co-worker called authorities. The Search and Rescue Team responded and located a vehicle that the couple had parked near the Aspen Meadow Pack Station on Crabtree Road near Pinecrest.
The team then reviewed the hiking wilderness permit they had filed with the Mi Wuk Ranger District. The couple had intended to go to the Gianelli Trailhead, Y Meadow, Wire Lakes, Piute Meadow and then exit at Crabtree. Late yesterday afternoon the couple was spotted near the Crabtree Trailhead. They reported to the team that they had gotten lost a few times near Granite Lake and Bear Lake, and eventually came across a path and followed it. Both were in good health.