Helping Tuolumne County Residents Manage Dead Trees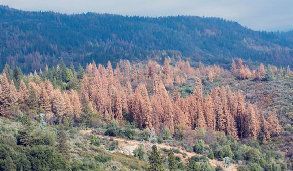 CAL FIRE Image of Drought and Insect-impacted trees in the Sierra Nevada

View Photos
Sonora, CA — The Tree Mortality Aid Program (TMAP) is making progress to gather resources and information to help county residents who need it the most to remove hazardous trees from their property. So far the group has two fund raisers planned, set up an account with the Sonora Area Foundation and has plans to gather and put to use millions of dollars of donations to keep Tuolumne County safe.
The Program, started as a Sonora Lions Club centennial project, and now involves the Sunrise Rotary, Sonora Kiwanis, Sierra Non-Profit, Interfaith, and Area 12 Agency on Aging. The goal is to remove trees from private property that are a fire hazard and that could injure people in their home. Specifics of who and what will qualify will be released later this month. Ethan Billigmeier with the Tuolumne County Office of Emergency Services is coordinating with the group to share what his agency has learned about the process of removing trees from public use areas.
At a TMAP meeting yesterday facilitator Cathy Peacock stated her appreciation of PG&E and Caltrans crews who are removing trees in the Mi Wuk area. Peacock says she appreciates their answers to her questions and questions from other locals and their business like attitude. She says they are cleaning up and are "really there to get the job done." Discussions at the TMAP meeting related to the logistics and urgency of combining private tree removal efforts with larger tree removal projects, not just as an efficient way to save money but also because this is only the first round of tree removal. Glen Gottschall of the Highway 108 Firesafe Council and Sonora Sunrise Rotary President Mike Olenchalk confirmed the severity of the situation. In short too many trees are available to host far more bark beetles than ever before. Beetles are eaten by woodpeckers but trees also can't get the water they need to thrive. The report is the local soil is dry extending down many feet. The dryness is worse than in past droughts and rain is running off not soak down, the eight feet or more feet where trees seek moisture during droughts. Olenchalk mentioned that Colorado has dealt with infestations that last for decades, he believes emergency in Tuolumne County is just beginning.
The first of the two planned fundraisers will be in the morning of Saturday, October 8th managed by the Kiwanis of Sonora. Meal tickets will $10 and may purchased at the door or from any Kiwanis member. Details are in our event calendar here. The second newly announced event is the 24 hour Rocking Chair event or Rock-a-thon in the Junction Shopping Center Parking Lot October 14-15. Individuals are invited to participate in teams to collect pledges for each hour of the entire 24 hours their team keeps a rocking chair rocking.
Sonora Lions Club member Tom Penhallegon reported previously that $5,000 in seed money, donated by the Sonora Lions was deposited into an account through the Sonora Area Foundation, which will be handling donations large and small from in and out of the community. A recent blog by Sonora Area Foundation Director Ed Wyllie has details on how to donate to TMAP here. Three TMAP organizations have confirmed they will be applying for grants in the amount of hundreds of thousands of dollars from the State Responsibiliy Area fund, that fund's money comes from the State Fire Fee.